Amazon fights to stop union in poorest Alabama town — while profits soar
Excerpts below are from union organizers who spoke with democracynow.org about the union drive at Amazon's Bessemer, Alabama warehouse. It the union wins, it will be the first time an Amazon warehouse has been unionized in the entire country. The plant is mostly Black, mostly women and the largely Black city of Bessemer is one of the poorest in Alabama. Amazon has hired a Koch brothers linked union buster to break the drive.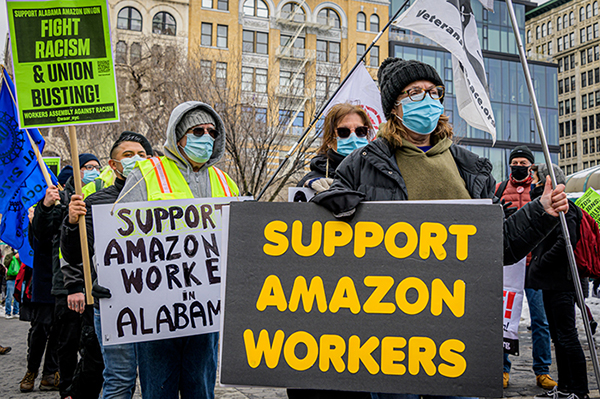 Jennifer Bates: We're organizing because . . . of the conditions; long work hours with only two breaks, long walks upstairs and downstairs . . . plenty of elevators . . . , but they're only used for merchandise. . . so there are a lot of health issues . . .  [and] with COVID-19, they told us that they would advise us of those who have it or if we work near. . . [but]  they haven't done well with that . . .  They've put [anti-union] flyers on bathroom stalls. . . and they're coming to our workstations  . . . so even some of the younger people are afraid . . .  [and they're telling people], "If you vote the union, Amazon will shut down, so there won't be any jobs here.
Michael Foster:  Amazon is very powerful, one of the most profitable businesses in the U.S. right now. And we, as the union, trying to take on Amazon in a right-to-work state . . .  is the perfect image of David and Goliath.
Jennifer Bates:  [Winning the union] will change history. . .  Amazon is choosing a lot of low-income communities. And it's bringing a lot of light . . . you're working in a facility where in the last three months they accumulated $90-something billion, and none of the employees received anything for this. I like to tell the employees . . . you guys are Amazon. Without you guys, there is no Amazon.
The People's Tribune brings you articles written by individuals or organizations, along with our own reporting. Bylined articles reflect the views of the authors. Unsigned articles reflect the views of the editorial board. Please credit the source when sharing: ©2020 People's Tribune. Visit us at http://peoplestribune.org/ and http://www.peoplestribune.org/latest-news/ Donate at http://peoplestribune.org/pt-news/subscribe/